3 Last Minute, Must-Have Gift Ideas From Sharper Image
This post brought to you by Sharper Image. All opinions are 100% mine.
One of the first things I do when boarding American Airlines is whip out the Sky Mall magazine to look at all of the cool gadgets. That's how I stay up to speed regarding what's new at Sharper Image, who has some last-minute gift ideas for all of you last-minute people (like me). Here are their three must-have suggestions, which as of Friday, can be bought online through Sharper Image online or in-store at Macy's  and Bed Bath and Beyond in time for Christmas.
Sound Soother White Noise Machine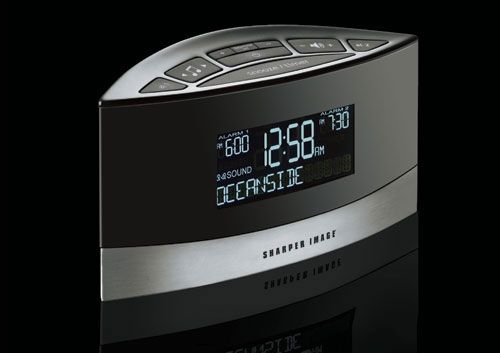 I actually know people who own this and swear by it, especially for staying in hotels. This Sound Soother plays over 20 digitally mastered soothing sounds ranging from ocean waves to a crackling campfire. It functions as your alarm clock too.
The Sound Soother features a brushed metal finish that looks great on any nightstand or table, and features an extra large display for sound description and digital time. Of course, it resets itself after a power outage and daylight savings time. The Sound Soother plays continuously, and features an Auto-off timer you can set for 15, 30, 45 or 60 minutes. Retail price is $49.99.
Customizable Shiatsu Back Massages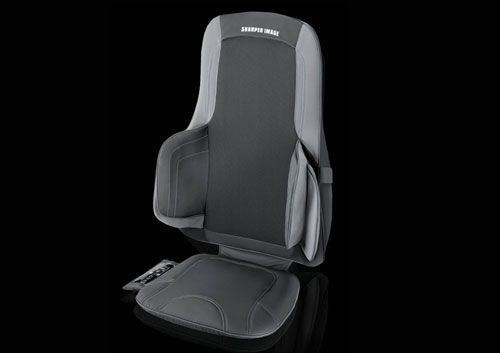 I wouldn't mind using one of these. Think about how much more relaxed you'd be with a Back Massager in your office chair. Experience deep-kneading shiatsu or rolling massage as four independent rollers travel up and down your back. Use Spot Shiatsu and Perfect-Fit™ to customize the massage to your back and height. Soothing heat is an option for a deeper, more relaxing massage. The easy-to-use Advanced Touchpad Control features a laser-etched flat panel. Carrying bag included for bringing the massager wherever you go. Retail price is $129.99 at Bed Bath and Beyond.
Bluetooth Wireless Speaker
This Bluetooth Speaker can actually be bought at Macy's and is currently in-stock at most in San Diego. What's neat about it is that you can wirelessly stream music via your smart phone, laptop and most notebooks from up to 30 feet away. It has an integrated subwoofer for expanded bass response and Bluetooth hands-free conference calling with any smart phone. Current sale price is $69.99 (marked down from $120.00).
Sharper Image is mostly online these days where they offer extensive product search functionality, informative video clips, customer product reviews and rankings, convenient order tracking, access to real time/toll-free customer support and company related information all providing a content-rich shopping experience. Order online on Friday, 12/21 and receive guaranteed Christmas delivery for just $19.99.
I'd go with the back massager as my must-have. How about you?